Update Saturday 23rd October 2021 - IN CHURCH and this WEEK
Sunday 24th October 2021 - 10.30 Service for BIBLE Sunday; followed by BAPTISM at 12 and CONFIRMATION Service with Bishop Karowei at 5pm -
Sunday 31st October 2021 - 10.30 Service, ALL Saints AND ALL SOULS service, praying for all those who have died, at 4pm
Sunday 14th November 2021 - 10am Service for REMEMBRANCE, with laying of the wreath
ALL WELCOME
Morning Prayer each day at 8am and
Night Prayer Wednesdays at 7pm;
See below for info about prayers, funerals, weddings and baptisms
SOCIAL ACTIVITIES:
Pilates Class - 10.30am
BOXING at St Ed's - NOT ON THIS WEEK FOR HALF TERM
Play N Stay Toddlers - Tuesday at 10am - Not on this week due to Half Term
SLIMMING WORLD continues Tuesdays at 5.30pm followed by Zumba from 7.45pm
DIDDI DANCE - NOT ON THIS WEEK FOR HALF TERM
Zumba Gold - Wednesday at 11am 20th October
Mini Eds Wednesday from 4.45pm and Youth Cafe at 7pm - Not on this week due to Half Term
Coffee and Continental BRUNCH in the hall at 10.30am on Thursday 28th October
Karate - Thursday afternoons 4pm - call Ellie Giles for details on 07912 212075
Kidspace - Thursday evenings but not this week due to half term
Seated Zumba 11am on Fridays
COMMUNITY LUNCH on Friday 29th October at 12.30
Dance at St Ed's Friday Evening 29th October - 7pm in Church
SUNDAYS Parish Communion at 10.30am, with Sunday School for the children
WEDNESDAYS Night Prayer at 7pm and Morning Prayer at 8am - All Welcome as we have a large enough building to socially distance; all services also continue to be livestreamed on Facebook at: www.facebook.com/stedsmottingham/
If there are people you want us to PRAY for by NAME, please message us; Take care - stay safe and God Bless.
FUNERALS - we are able to take them at the Crematorium or Cemetery and in Church. Please phone 07711 611201 or email [email protected] for further information or ask your funeral director to contact us.
We also hold memorial services, prayers and other ways to mark your loved one's life; contact us on [email protected] or 07711 611201
Weddings, Baptisms, blessings and other services of celebration are also back: call 07711 611201 to discuss
With the opening of a new side door and gate we now have a better one way system and are-open for all SERVICES as set out below; we also continue to STREAM the SERVICE at: www.facebook.com/stedsmottingham/ and we will continue to review the situation each week
AND some ACTIVITIES ARE COMING BACK over the road at St Albans Church Hall - see WEEKLY EVENTS for DETAILS and DATES
St Ed's will be used as an NHS vaccination centre, probably until September. If you are to be invited to St Ed's for your vaccination the invitation will come from your GP. Please do not contact us about booking as we have no access to the Booking System
The Entrance to the vaccination centre is the door of the hall with the mural by the steps; the exit will be from the red steel doors and if you have the Pfizer Vaccine you will sit and wait in the church
The car park will primarily be used for the vaccination centre whilst the centre is in operation but other visitors can park in neighbouring roads.
FOOD BANK: at the front of the Church at 35 St Keverne Road, SE9 4AQ on Monday and Saturday -10-12.00, Friday 9.30-1pm & Wednesday 6-7pm: come in and collect or if you need a delivery (eg due to illness, self-isolation or caring responsibilities) phone or message on 07395 565984
We can also help with access to IT, legal advice and support, SHOPPING and MEDICINE COLLECTION
Thanks to funding from London Funders, City Bridge Trust, the Charities Aid Foundation, Direct Line, the National Lottery and Chislehurst Rotary, local churches, schools, the community and the Glebe Football Club the food bank is well resourced. We are also part of the Bromley Wide Food Hub distributing food from Fare Share. So don't hesitate to seek help or tell others about it. Leaflets have been circulated across the community so that the details are available to those without access to IT. Thanks also to National Churches Trust for funds to mend the high roofs and to Croydon Gate Company for the newly installed gate which means we can now open the side path to the church for a proper one way system
Meeting people at St Edwards
if you want to get involved in the community St Edwards is a good place to come... whether you want to join us for a meal, a club or a service or event.... or want to help by volunteering, we would be delighted to see you.
Please see weekly schedule above for social activities
We also run Mottingham Foodbank (07395 565984) which also has opportunities for volunteers. Just call for more details.
AND meet us online for services at www.facebook.com/stedsmottingham/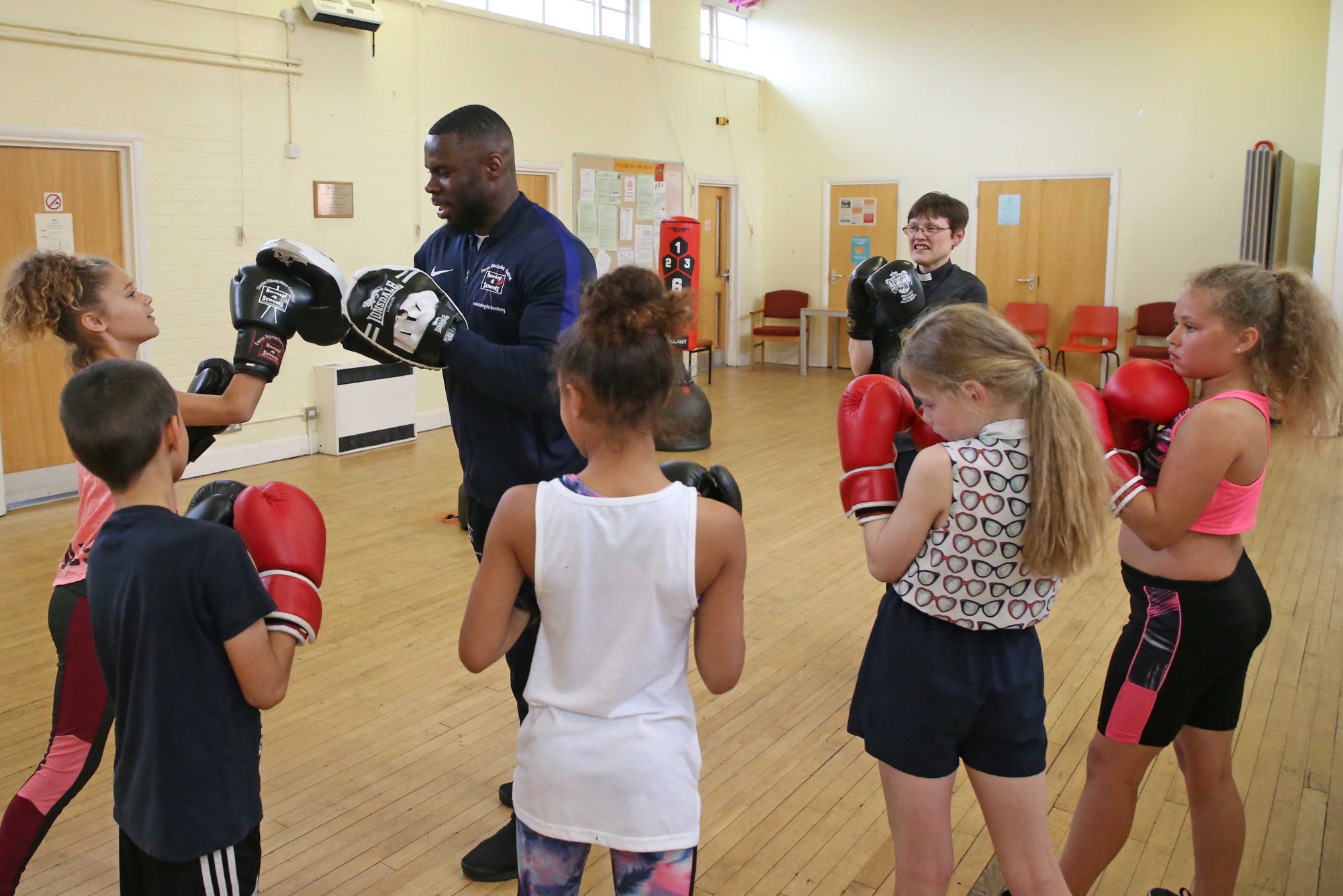 You can now support us by donating with no extra cost....
Join easyfundraising and collect free donations for us every time you shop online. It won't cost you a penny extra.
Show your support here http://www.easyfundraising.org.uk/causes/parochialchurchcouncilofstedwardtheconfessormottingham and help make a real difference.
SPACEHIVE Crowdfunder launched to develop add toilets, kitchan and improve the Green for the COMMUNITY
SUPPORT, LIKE and Pledge at https://www.spacehive.com/st-ed-s-building-for-the-community... just sign up & click "Like"
SEE DEVELOPMENT & SUPPORT PAGES FOR MORE DETAILS
Memorial Bench outside St Ed's, remembering young people on the estate who died before their time
Easter Garden - we like to celebrate festivals with life size models of the Bible stories