Welcome to St Edwards, at the Heart of the Community
St Edward's Church: A Hub for the Community - 35 St Keverne Road, with Kimmeridge Road, Mottingham, London SE9 4AQ
FIND US AND FOLLOW US AT: https://www.facebook.com/stedsmottingham and at https://twitter.com/devesian
We are Church of England, so we do: Baptisms, weddings, blessings and funerals as well as Sunday services
Call Catherine, The Vicar on 07711 611201 or email revdrcath@gmail.com or stedwardmottingham@gmail.com
Through St Edwards Development Project (StEP) we run: Youth Cafe and Mini Eds, Counselling, Stay and Play for parents & toddlers, Community Brunch and Community Lunch...
Contact: St. Keverne Rd, Mottingham, London SE9 4AQ email: sue.stedproject@gmail.com; tel: 0208 851 3668 or 07542 721322
During term-time we also run Boxing (Mondays 5-6 & 6-7) and Dance (Fridays 7-8.30pm) - see Events in the Hall for up to date details
You can also Hire the Hall - email ruthstedproject@gmail.com or revdrcath@gmail.com or call 0208 851 3668 or 07711 611201
MONDAY 15th JULY _ AFTERNOON TEA _ 2-4pm; £2 - all welcome
PHOTOS and QUESTIONNAIRES about the new building are AVAILABLE IN CHURCH if you want to give us some feedback about the plans....
MOTTINGHAM SUMMER FAIR - Saturday 3rd August from 11am to 5pm - Bouncy Castle, DJ, Games, Burgers and Jerk Chicken, Afternoon Teas and loads more -
See the new page MEMORIAL GARDEN for photos and details of our new planting at the front of the church
AND SEE Weekly Events for MORE DETAILS....
We are recognised as a Visible Congregation by One Body One Faith - for more details see: http://onebodyonefaith.org.uk/about-us/get-visible/welcoming-congregations/
A Rocha UK has just awarded us the Bronze Eco Church Award - see https://ecochurch.arocha.org.uk/eco-church-locations/
Meeting people at St Edwards
if you want to get involved in the community St Edwards is a good place to come... whether you want to join us for a meal, a club or a service or event.... or want to help by volunteering, we would be delighted to see you.
You can contact us on the numbers or emails above - or look on the website for more details and just turn up....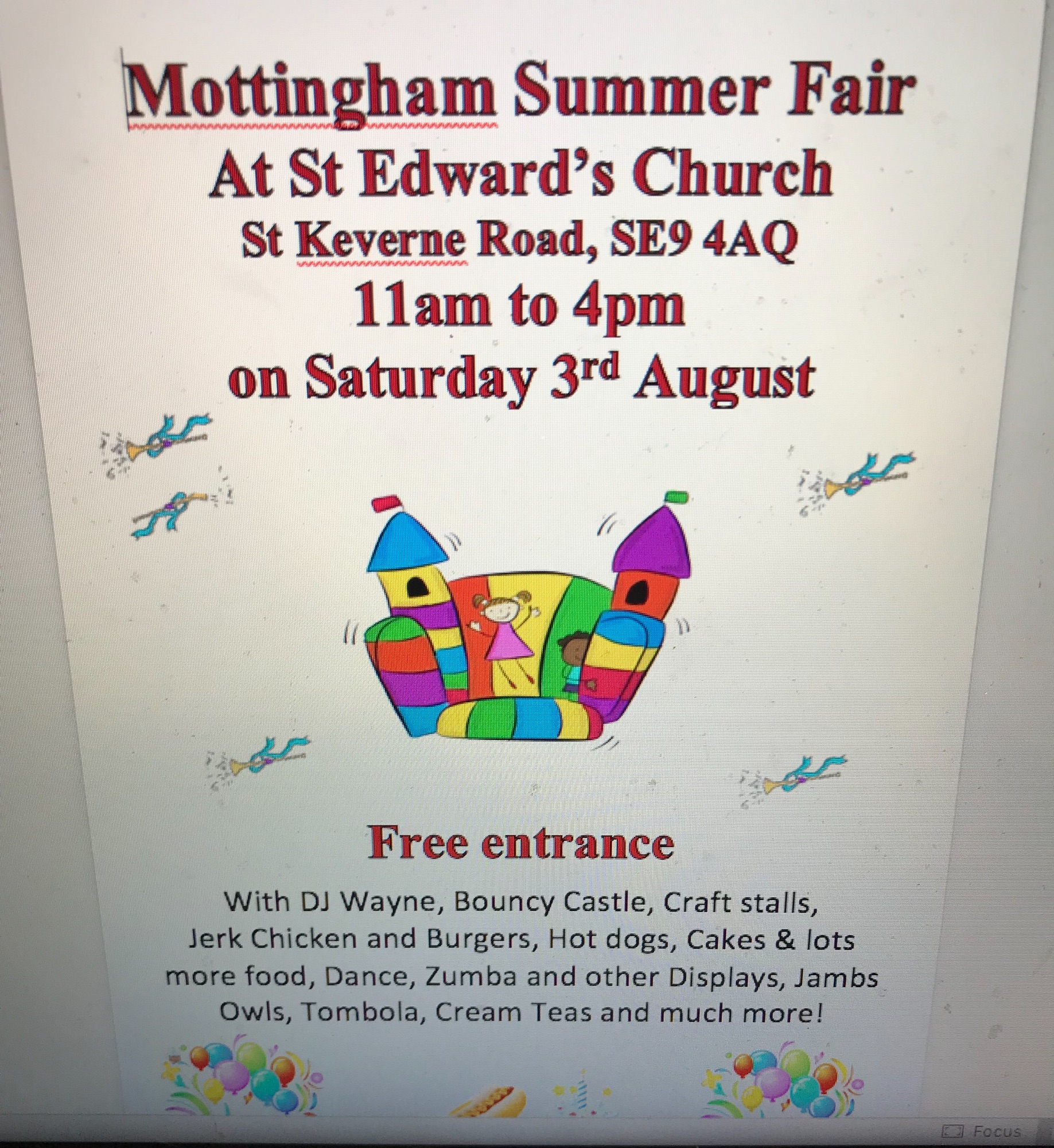 You can now support us by donating with no extra cost....
Join easyfundraising and collect free donations for us every time you shop online. It won't cost you a penny extra.
Show your support here http://www.easyfundraising.org.uk/causes/parochialchurchcouncilofstedwardtheconfessormottingham and help make a real difference.
SEE DEVELOPMENT & SUPPORT PAGES FOR MORE DETAILS